Frequently Asked Questions
Speeding & Traffic Violations
Mr. Dixon has practiced criminal law for over 25 years and has handled hundreds of traffic violations. Born and raised in Eastern North Carolina, criminal defense lawyer Sam Dixon understands local customs and traditions. As an attorney practicing in the region for a number of years, he also knows the criminal justice system and the courts of the area.
From our office in Edenton, North Carolina criminal defense lawyer Sam Dixon provides effective representation to individuals charged with traffic violations. Sam Dixon has a reputation as an aggressive and powerful criminal trial lawyer. He handles:
Speeding tickets and other traffic violations
Drunk driving (DUI/DWI), including drivers license suspension, revocation, and reinstatement matters,
Should I just pay off the ticket?
NO! Before you pay the ticket, call for a FREE TELEPHONE CONSULTATION. The lawyers at Dixon & Thompson Law will tell you how much your court expenses and fines will be, and identify the best strategy that will reduce or avoid excessive insurance increases. Call us now for your free consultation at 252-482-8696. The following chart shows potential insurance increases for paying off a traffic ticket: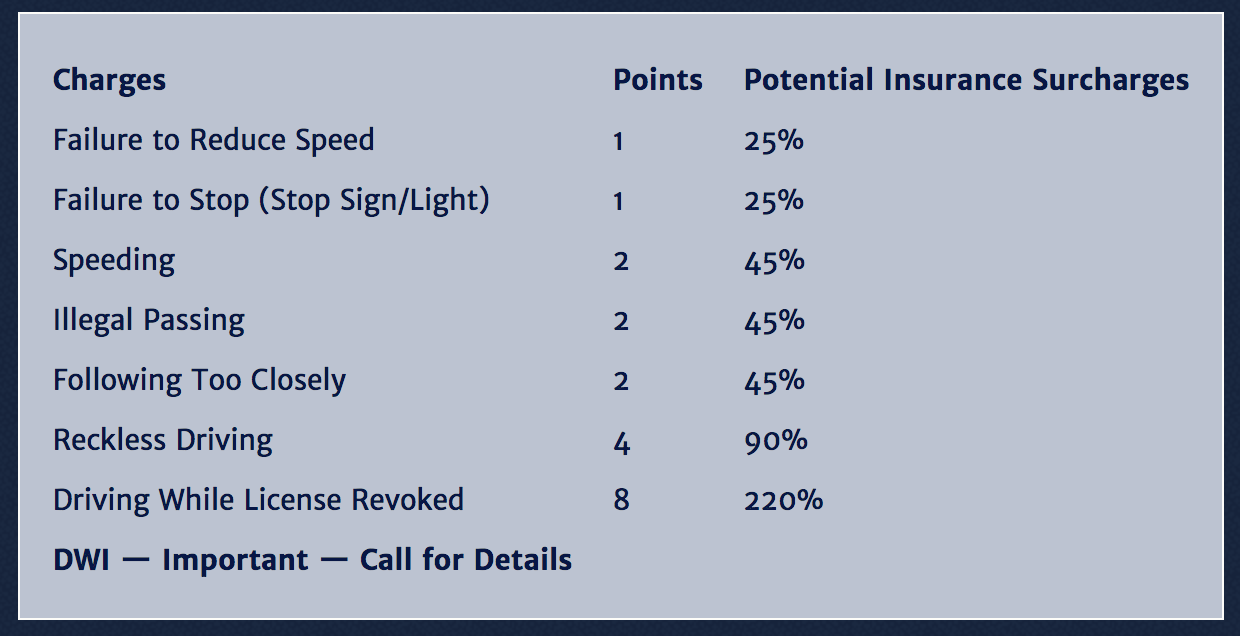 What happens if I pay the ticket by mail to the court?
If you simply mail in your ticket with a money order, you are PLEADING GUILTY as charged and may have insurance points assessed, or even in some cases, have your driver's license revoked. Call us now for your free telephone consultation at 252-482-8696.
---
How can Dixon & Thompson Law help me?
Even if you're guilty as charged, in most cases the lawyers at Dixon & Thompson Law can minimize, and even eliminate any increases in your insurance premiums. If you are a North Carolina driver, 2 insurance points could increase your premiums by 45% for 3 years.
---
Will I have to appear in court?
In most cases, you will not have to appear and Dixon & Thompson Law will appear on your behalf. During the free consultation our lawyers will let you know if you must appear. If Dixon & Thompson Law does appear for you, you will not miss work and there will be no waiting in long lines or sitting in Court all day. The attorneys at Dixon & Thompson Law have represented hundreds of clients for the past 25 years. Allow the attorneys at Dixon & Thompson Law to use their experience to help you with your case.
---
When I got my ticket, the officer told me I had to appear in Court. Is this true?
The officer may be correct that certain charges and certain speeds can require a mandatory appearance for you no matter where you live. Most likely we can have you sign a Waiver of Appearance and appear for you. This will save you time in traveling to court with even a likelihood of waiting most of the day and having it continued.
---
What is the charge for your services?
We have found our clients like one total charge that includes the fine & costs. A usual fine and court costs is $263.00. Our normal total charge is $450.00 which includes the cost. We will explain all of your costs during our free consultation. You will be pleased with all the extra services we provide.
We accept MasterCard and Visa. Once you pay your retainer, we can obtain a court continuance to allow you time to get the rest of the funds together. More likely than not, you will not have to appear in Court.
Please call us for a free consultation at 252-482-8696.
If you or a family member is facing North Carolina criminal charges of any type, contact a North Carolina criminal defense lawyer at Dixon & Thompson Law PLLC.
---
The ticket I got has a mistake. Will the judge throw it out?
Mistakes about time, road conditions or your driver's license are probably not fatal mistakes and are allowed to be amended in Court. However there are some tickets that may be invalid. You need to talk to an experienced traffic lawyer who can tell you whether or not a trial would be in your best interest.
---
I am not from North Carolina but got my ticket while on vacation. Will it affect my license in my home state?
To answer that question you need to know if your state is a member of the Non-Resident Violator Compact; an agreement between most states. This is a complex question that should be answered by someone who routinely handles traffic violations.
---
I am a commercial driver and I got a ticket for speeding. I can't lose my license because it is my livelihood.
Commercial drivers face a whole different set of circumstances and have to take great care to have a ticket handled correctly.
---
I just got my first ticket. Will my insurance rates go up since I have been driving for over 25 years?
The North Carolina Rate Bureau (NCRB) created the Safe Driver Insurance Plan (SDIP). It created a way to take into account driver's histories and convictions for violations. Unlike driver license points, this plan provides for insurance points that is used to assess surcharges onto your insurance premium.
---
I got a speeding ticket. I was told I could get a PJC and it would not go on my record. Is this correct?
In North Carolina a judge can grant a Prayer for Judgment Continued (PJC). It is not granted lightly.
---
I have just been charged with Driving While License Revoked because I had not taken care of a previous ticket. What is going to happen to me?
Many of our clients face this situation. A lawyer needs to review all the charges pending including ones in which you failed to appear and then advise you on how to proceed.
---
I work long hours and I can't afford to take off work. I don't think I can even afford the fine and costs let alone a lawyer. What do I do?
Upon the receipt of a retainer we can request a continuance from the court which may give you some additional time. We accept all major credit cards.
---
Can I handle the ticket myself?
Absolutely, but just remember this: you may be walking into a system you are not familiar with. You will be dealing with a prosecutor who is not allowed to give you advice.